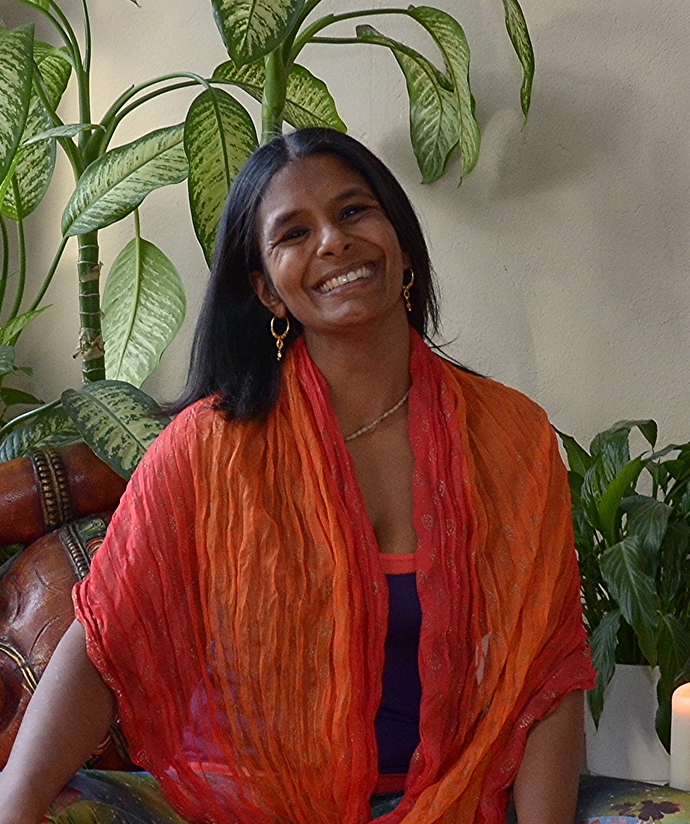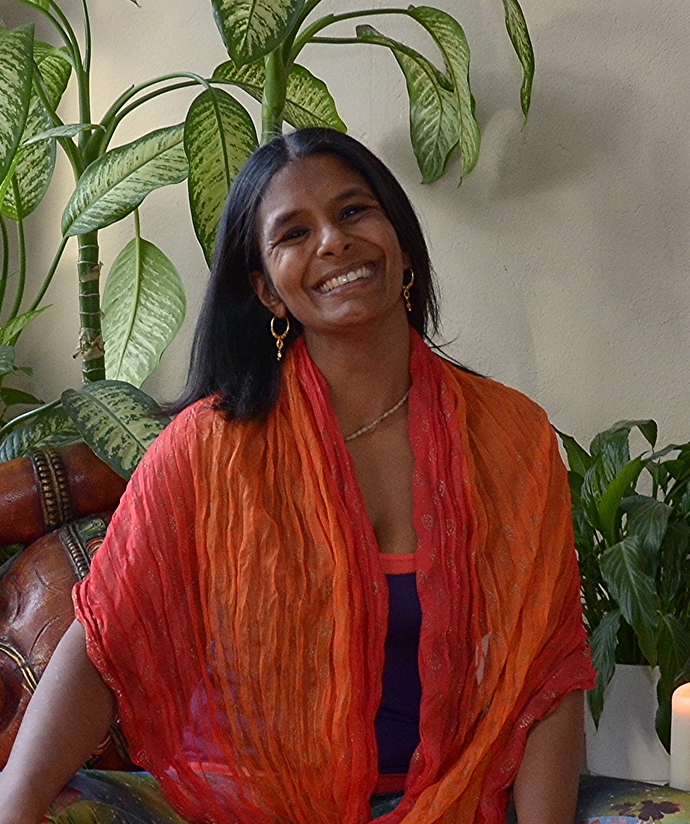 Gopi Kinnicutt
Gopi Kinnicutt (ERYT 500) is a dynamic, Bhakti-infused yoga teacher who has developed her own unique teaching style. She organically creates and designs dynamic fluid yoga sequences, infused with deep spirituality. In her classes she incorporates mantras, breath work and Kriyas to release untouched energy and Prana. She bridges the philosophy of Yoga and the authentic traditions coming from India, making them accessible to the modern 21st century Yogi. Gopi leads National and International yoga retreats. She has been the head of RYT 200 hour and 300 hour teacher trainings for 7 years, and is the owner of Bhakti Yoga DC and founder of Yoga Mandali in Saratoga Springs, New York. Gopi has trained extensively with Shiva Rea, Ana Forrest and Gary Kraftsow, and is certified and trained in trauma-sensitive yoga. Gopi also lived in a Bhakti Yoga ashram for 10 years, where she studied and taught Indian philosophy and mantra meditation. Gopi is certified in Thai Yoga Body Work and Ayurvedic Body Work, offering a vigorous herbal oil body massage (Vishesh) and a deep relaxation head treatment called Shirodhara.
Braja
Braja is an accomplished Asana and Pranayama teacher (RYT-500) who infuses her classes with positive and tranquil energy. Having lived and studied in India (Rishikesh, Vrindavan and Mysore), she upholds tradition through well-balanced practice with a lot of personal assistance, breath work, mantra and philosophy. Since her youth, she has immersed herself into the finer mysteries of yoga in its many forms and happily shares her deep love and passion for spirituality with all. Braja is also a Certified Medical Massage (PIMT) and Trigger Point Therapist (CMTPT) who blends her therapeutic knowledge with breathing methods to create a personalized treatment for everyone. Read more here.
Cynthia Lorena
Cynthia Lorena is known for her creative and dynamic sequences, focus on alignment, her honesty, and her sense of humor. She currently lives and teaches vinyasa yoga group classes and workshops in the DC metro area and leads international retreats, as well as corporate classes and corporate retreats. She also offers private instruction, energy work (Reiki), and breath work. Her extensive clientele list ranges from teens to senior citizens with a variety of specific needs such as back injuries, cancer, depression and anxiety. Currently, Cynthia assists teacher trainings in DC. and offers mentorships for new teachers.
Cynthia was born and raised in New York. During her time working in the fashion industry, she felt that something was missing. Following her intuition, she left behind her hectic NYC life and immersed herself in studying yoga in the mountains of Massachusetts to make her health, happiness, and personal growth a priority. In July 2011 she graduated from Kripalu's School of Yoga with a 200 hour yoga teaching certificate. Shortly after, she returned to New York City to teach yoga full time. In 2014, Cynthia completed her advanced 500 hour teacher training certification at Yogamaya in New York City. She is also a certified Level 2 Reiki (energy) healer.
cynthialorena.com
Ryan Smith
Ryan is a skilled practitioner in the art of yoga and therapeutic massage. He is also an accomplished qigong healer, continuing his education in qigong movement/meditation and its clinical applications. Ryan came to yoga in the late 90's in search of self-healing. He immersed himself in Kundalini Yoga with Guru Mukh, surfed Prana Flow Energetic Vinyasa with Shiva Rea, and bathed in the body wisdom of the teacher's teacher Annie Carpenter, while living in Los Angeles for over 13 years. Also inspired by Jo Tastula, Matt Pesendian, Micheline Berry, and many other world-class teachers throughout his years on the mat, he has come to find his own unique voice as a yoga guide. Ryan's yoga is rooted in the tradition of Sri Krishnamacharya, offering a potent alignment-oriented practice that emphasizes the forms and actions within yoga asana. Classes progressively and safely sequence toward more complex peak poses, and spend time breaking down techniques creating awareness on and off the mat. His practice draws upon a wide range of postures and modifications that build strength, flexibility and refine awareness in body and mind. For more info on Ryan go to www.Selflesslotus.com
Jen Young
With Jen's classes, your breath will weave together the wisdom of your body, the compassion of your heart and the focus of your mind. This will help you release trapped patterns and come into greater joy through your own creative expression. Jen incorporates kriyas, pranayama, deep core work, holding of poses and meditation into a creative and playful Vinyasa Flow asana practice. Music is an essential part of Jen's classes, especially inspirational, devotional and healing music.
LISA AI
Yoga is a practice where one is able to be present in the moment allowing for balance both in the mind and body. Lisa's intuitive style of teaching incorporates energetic asana, pranayama, sprinkled with fun and laughter. She believes wholeheartedly that yoga can be benefitted by all. Lisa's classes are balanced with healthy alignment, dynamic sequencing and compassionate hands on assist. She gives her students the opportunity to express themselves freely with an open mind and loving heart.
You can find Lisa in her kitchen cooking up delicious meals and baked goodies. A foodie at heart Lisa enjoys trying new cuisines. She finds it incredible fulfilling in sharing the lessons learned on and off the mat.
Alex Duchscher
Alex Duchscher, ERYT 200, has been practicing yoga since 1999, and teaching yoga since 2002, when she got her initial 200 hour teacher training certificate from Kripalu Center for Yoga & Health. Since then she has incorporated more Vinyasa flow to complement Kripalu's Hatha style of yoga, attending trainings with Vinyasa teachers and mentors Shiva Rea, Shannon Paige, Laura Wade Jaster and Jess Lazar. Also, studying and practicing Buddhist philosophy and meditation has added a joyful peace and freedom to her approach to yoga practice. Her practices are fluid with elements of strength and grace.
Alex also enjoys the depth, commitment and connection that come from teaching prenatal yoga.
Alex lived and taught yoga and practiced massage in Vail, Colorado for the better part of 10 years and has recently relocated to the Northern VA/D.C. Metro area. She is transitioning into new massage and yoga experiences and will update schedule with any new classes and massage information as it becomes available on her website: www.renewaltide.com.
Kirsten Ahern
Kirsten started practicing yoga in 1997, following a rich path of Ashtanga, Iyengar, Power, and Vinyasa Flow practices. Once serving as a retreat during difficult periods, yoga is now an integral part of Kirsten's life. She focuses on challenging Prana Vinyasa sequences built around an intention or dedication that you can carry with you off the mat. She centers on proper alignment, core strengthening, and the breath to guide the ebb and flow of each movement and to build a stronger practice. A marathon runner, Kirsten teaches yoga and meditation to athletes to help them avoid injury, improve form, and boost concentration. Kirsten is a Prana Vinyasa certified yoga instructor and RYT-500. She is also trained in trauma sensitive yoga. Kirsten welcomes you to share the space, discover new depths, and become your own teacher!
Sheetal Ajmani
Sheetal learned her first sun salutation when she was only twelve years old while visiting her grandfather's ashram in India. Since then, a quiet interest in yoga rested within her, only to re-awaken when she was attending medical school. It was then that Sheetal discovered yoga classes at her local gym. Initially attending classes out of curiosity and as a means to balance her running routine, she ended up finding incredible peace and stillness through the yoga practices. She was hooked! She had tapped into something special, something so deep and powerful that she just had to share it with others. In 2010, she went on to complete her 200-hour yoga instructor training at Atma Bodha Yoga School in Virginia Beach. She subsequently completed the 300-hour yoga instructor training with Hari Om Yoga School in Costa Rica, the Laugh-a Yoga Leader training at Yogaville, and the Ayurveda Lifestyle Consultant Certificate Program at David Frawley's American Institute of Vedic Studies. Sheetal is continually amazed by the wisdom of yoga's ancient teachings and finds joy in sharing these powerful tools through her teaching.
When not teaching yoga, Sheetal has the pleasure to serve as a pediatrician in Northern Virginia, providing care for her sweet little patients while offering guidance to their parents as they navigate through the wondrous journey of raising healthy, brightly inspired children. Sheetal also makes sure to engage in other activities that light up her soul - listening to live music, exploring the outdoors, spending precious time with family and friends, being an aunty to her friends' awesome kids, and cooking up new and exciting vegan dishes. She looks forward to connecting with you on this incredible journey of yoga, self-discovery, and infinite love!
For more information on Sheetal, please visit www. shaktividyayoga.com
Rosalynd Harris
Rosalynd was introduced to Yoga in 2009 as an elective for her BFA in Modern Dance Performance while attending The University of the Arts in Philadelphia.
Continuing her career as a professional dancer while maintaining her practice on the mat integrated self-care, self-love, and self-nurturing to Rosalynd's lifestyle.
While dancing in San Diego, she began a more spiritually rooted Asana practice. However, upon moving to Washington, DC in 2015, there was a lack of studios that offered the meditation, mantra, chanting, asana, and satsang that essentially, her soul longed for.
Then she met Gopi Kinnicutt at Bhakti Yoga, where Rosalynd became a certified RYT 200hr instructor. Incorporating her dynamic background as a Dancer into her sequencing along with a profound sense of intention and mindfulness within the practice creates a gracefully poetic approach to a Prana Vinyasa flow. Rosalynd focuses on the precision of anatomical alignment through verbal cueing, maintaining an eloquent and artistic visual journey in maximizing the use of prana in the body while stimulating a full mind, body, and spirit practice.

She currently leads workshops and classes throughout DC, MD, and VA, ranging from contracted corporate yoga to low income/under-served community spaces. In her mind, everyone deserves accessibility to the benefits of this practice and she is on a journey to be that vessel!
Lawrence Perkins
Lawrence was led to yoga as a way to develop a healthier lifestyle. He fell in love with the practice after experiencing several major life shifts and followed the path to teaching. He completed his 200HR YTT through Bhakti Yoga DC's India Immersion in March 2018.
Lawrence seeks to serve his students with an empowering flow that awakens an inner calm. He resourcefully and strategically sequences breath and movement to create a dynamic flow that opens their hearts and unlocks their true nature.
Yvette Walkinshaw
Yvette is known for her rhythmic and creative classes that are infused with heart-centered wisdom. She weaves together Eastern Philosophy with Western Psychology to curate a holistic exploration of the mind, body and spirit while using asana as a vehicle for insight and healing. With grace and sense of playfulness, she guides you through a somatic journey to access a direct experience with your body and increase present-centered awareness to leave you feeling connected and vibrantly alive.
Yvette has been practicing and studying meditation for over a decade, specifically in the Vipassana, Tantric, and Zen traditions, and now integrates the transformative practice of devotional prayer and mantra meditation into her daily rituals. She earned a Master's degree in Transpersonal Psychology and completed her 200-hr yoga teacher training at Bhakti Yoga DC.
Sandra Flores
Sandra found yoga when she was seeking an extra fitness challenge and restoration from injuries, but instead found respite and a comprehensive life practice. It is on the mat that she feels the most alive, strong, and centered; Sandra encourages students to also feel beautiful in their practice. She is passionate about what an asana practice brings to one's life and it is this playfulness and fresh perspective that encourages her students to take on new challenges and view old poses in a new light. Having trained with Gopi Kinnicut in Prana and Vinyasa Flow, Sandra is comfortable providing all levels instruction, modifications, and hands-on assists. Sandra works full time with homeless individuals in Downtown DC and has training in sensitive language and voice flexion that is highly relevant to conducting classes accessible to diverse populations. Personally, she loves creative sequencing, utilizing the breath to create heat and flexibility, but also values restorative practices, focusing on the fundamentals of breath and meditation.