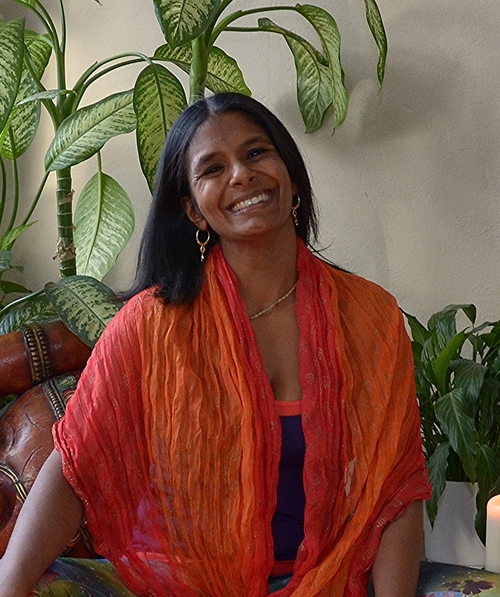 Radhantha Swami
Author of The Journey Home: Autobiography of an American Swami . His teachings draw from the sacred texts of India such as The Bhagavad-gita, Srimad Bhagavatam, and Ramayana, and aim to reveal the practical application of the sacred traditions, while focusing on the shared essence which unites apparently disparate religious or spiritual paths.
Today Radhanath Swami travels throughout India, Europe and America, sharing the teachings of Bhaktiyoga. He resides in an Ashram in Chowpatty, Mumbai, where for the past twenty-five years directed a number of acclaimed social action projects including Midday Meals, serving 260,000 plates of vegetarian food to the children of the slums of Mumbai. He has establish missionary hospitals and eye camps, eco-friendly farms, schools and ashrams, an orphanage, and a number of emergency relief programs throughout India.
Gaura Vani
Gaura Vani is a multi-disciplinary artist – fluent in music, film and visual arts. He is most known for his Mantra Music performances (an emerging genre based on ancient Indian mantras or chants). Gaura Vani's events are unifying and transporting – a mix of participatory rhythm and song, story and dance. He travels often to Africa, the Americas, Europe, Asia and Australia performing both as a solo artist and with his sacred music ensembles Sita & the Hanumen and As Kindred Spirits. Gaura Vani performs regularly at eclectic venues like private homes, theatres, temples, yoga studios as well as festivals like Lollapalooza, Bhakti Fest and Wanderlust.
Rukmini Walker is an activist in interfaith dialogue and women's spiritual empowerment. Her business, As Kindred Spirits (askindredspirits.com) aims to connect the work of the finest American designers with charitable and fair trade ventures. She believes that truth and beauty are, in the words of Emily Dickinson, "As Kindred Spirits". At the age of sixteen she met her Guru, Bhaktivedanta Swami Prabhupada and began a lifelong study in Bhakti Yoga. She lives with her husband in the Washington, DC metro area. The kirtan artist, Gaura Vani is her son.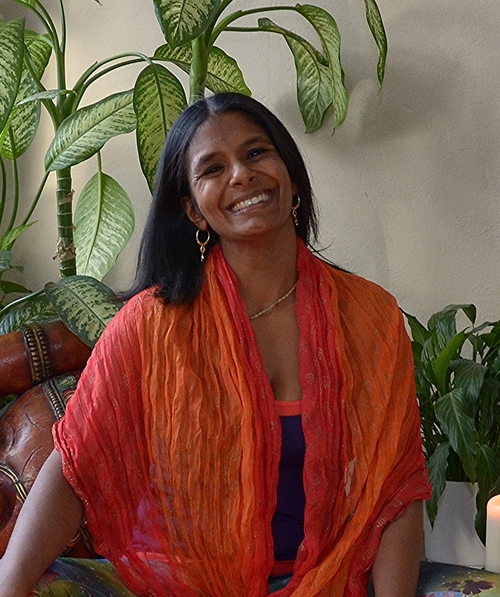 Gopi Kinnicutt
Gopi Kinnicutt (ERYT 500) is a dynamic, Bhakti infused yoga teacher, who has developed her own unique teaching style. She organically, creates and designs dynamic fluid yoga sequences, infused with deep spirituality, that empowers students to break patterns of rigidity and remove emotional and physical blockages. In her classes she incorporate mantras, breathe work, Kriyas (cleansing power movements), and Marma (pressure point) techniques to release untouched energy and Prana. She bridges the philosophy of yoga and the authentic traditions coming from India, making it accessible to the modern 21st century Yogi. She is expert at helping her students maintain correct alignment with an emphasis on healing through yoga therapy that is specific to the individual. Gopi leads National and International yoga retreats, as well as transformative and healing workshops. She has been the head of a
RYT 200 hour and 300 hour teacher training for 7 years, and is the founder of Yoga Mandali in Saratoga Springs New York. She regularly teaches in a number of studios in washington DC
Braja Kishori
Seeking the path more spiritual since she was a young girl growing up in Poland, it was the philosophy of the Bhagavad Gita that led Braja on her journey to become a teacher of yoga and pranayama (breathwork) as well as a therapist, inspiring her to live a life of service and devotion.
Dedicating herself to self-inquiry and study, she has lived and learned in ashrams around the globe (from Belgium to Philadelphia to India). Even as a child, the code of seva, or selfless service, that she adhered to within her spiritual communities really resonated with her, and she continues to share these gifts with others. She completed a 500 hour Yoga teacher training course at Rishikesh Yog Peeth in India, where she studied hatha, kriya, pranayama and ashtanga, and has done other advanced teacher trainings, including the Ashtanga Primary Series in Mysore, India.
She is also a certified and licensed therapist with over a decade of experience, specializing in deep tissue massage and trigger point therapy.
It is Braja's purest joy to share the tradition of yoga and her keen understanding of asana and anatomy with her students and clients, uniting breath and body for healing and health on all levels. She hopes to be able to share them with you, too.